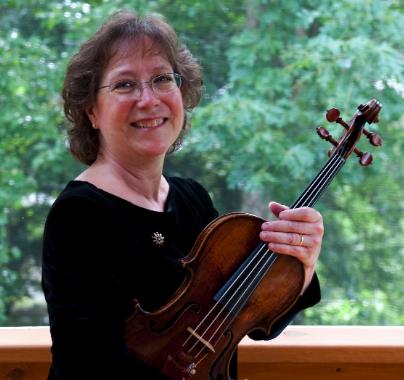 Helen Fall teaches private lessons on viola and violin, and coaches chamber music in her home studio in the Fairfax/Annandale area of Northern Virginia.
Mrs. Fall nurtures each student to rise to his or her greatest potential. A great-grand student of the renowned violin pedagogue Otakar Sevcik, Mrs. Fall teaches viola and violin with a combination of the Sevcik tradition and her own method of teaching, which has been described as a "traditional" teaching method. Mrs. Fall tailors lesson assignments to develop the individual skills of each student. In addition to solo repertoire, all students study scales, left hand technical studies, bowing technique, etudes, and music theory.
All students are coached in performance skills. In addition to performing in monthly Studio Performance Masterclasses, Studio Recitals in the winter and spring, and the Annual VFMC Spring Festival, each student is entered into area music club/association recitals several times per year. Selected students are invited to perform in area competitions.
Students preparing for auditions of any kind (college entrance, district, regional, all-state, youth orchestras, etc.) receive formal coaching to maximize success. Audition coaching includes training to improve sight-reading skills. Mrs. Fall's students have been accepted to National High School Honors Orchestras, Virginia and Maryland All-State orchestras, Virginia Senior Regional orchestras, and VBODA District orchestras. At each level, students from the Fall Studio have earned seats as concertmaster, principal 2nd violin and principal viola. Mrs. Fall's students have also won numerous awards in area competitions.
Former students from the Fall Studio have gone on to pursue undergraduate and advanced degrees in music performance and music education at major institutions including the Jacobs School of Music at Indiana University, Eastman School of Music, Peabody Conservatory, Cleveland Institute of Music, the Thornton School of Music at University of Southern California, University of North Texas, Belmont University, Case Western Reserve University, and James Madison University. A number of former students have gone on to careers in music performance, music education, composition & arranging, music business, studio recording, and music therapy (see links on sidebar).
Mrs. Fall is actively engaged as a freelance teacher/coach in schools and youth orchestras throughout the DC metropolitan area. From 1986-1988 she served as Program Coordinator of the Orchestral Training and Educational Outreach Programs for the Arlington Symphony Orchestra. From 1986-1994, she was engaged as a chamber music coach for the Arlington Public Schools Gifted and Talented Program. From 1991-1997 Mrs. Fall was co-founding Program Coordinator and coach for Chamber Music of Arlington, a summer program for strings and piano. From 2000-2017, Mrs. Fall coordinated the strings for Fairfax Symphony's SCORE program, which brought symphony musicians into the schools to coach students in sectional and full orchestra rehearsals. In 2013, Mrs. Fall was a member of the Virginia/OSU String Teacher Workshop Faculty, training teachers in Beginning and Intermediate Viola Teaching Methods and Playing Skills.
Active as a member of Virginia String Teachers Association (VASTA), Mrs. Fall served on the board from 2004 to 2010, serving as President from 2006 to 2008.
Mrs. Fall has been honored to receive awards for her work in music education, including VASTA's Distinguished Service Award (2008), the National State Chapter Leadership Award from the American String Teachers Association (2009), the Barbara Serage Award for Music Education from the Fairfax Symphony (2010), and the VASTA award for Outstanding String Teacher of the Year (2010).
Former Students in video:

Violinist, Bobby Chase, and the band Humming House are making it big! Here's aHuff Post article featuring the band. Michael Bialas puts the band on his list of "Must-See Acts of 2015."

Violist, Diana Wade, in her graduate Recital at USC Thornton School of Music and in a video with Argus String Quartet. If you watch this video of the song "Shia LeBeouf,"you'll see the Argus Quartet -- Diana even gets a cameo speaking role! The Argus Quartet was the Fellowship Resident Quartet at the Yale School of Music. They made their debut performance at Carnegie Hall on Oct. 25, 2015. Diana is now a free-lance violist and teacher in Los Angeles. Diana was a musician on TWO 2021 Grammy award nominated performances! Diana regularly performs in movie recording studios. Her most recent movie performance was in the orchestra for Indiana Jones and the Dial of Destiny (music begins at 5:30).
Cellist and Arranger, Chad Schwartz, and TriForce String Quartet
Former viola student Stanley Beckwith with Chad Schwartz and Triforce Quartet on tour in Seattle. The crowd goes wild!
Violinist, Eleonore Denig, and the band Milktooth. A graduate of Belmont University, Eleonore is a freelance violinist, composer and arranger based in Nashville.
Violist, Matt Negrin, performing with Chad (see above) in TriForce String Quartet at Smithsoninan Institute's opening of the exhibit, Video Games. Matt is a freelance journalist who has written for Diane Sawyer, Politico, The New York Times, and Bloomberg News. Currently, Matt is the Senior Digital Reporter for Comedy Central's The Daily Show. He was nominated for two Emmy Awards in 2020.
Violist, Patrick Miller performing Brahms Sonata in Eb at his first Masters Recital at Cleveland Institute of Music. Patrick earned his BM at IU and his MM at CIM in Viola Performance in the studio of Robert Vernon. Patrick is a freelance violist living in Cleveland. He is a member of the Indianapolis and West Virginia Symphony Orchestras. Patrick also regularly performs with the Chicago, Pittsburgh, Atlanta and Columbus Symphony Orchestras.