Welcome to helenfall.com! Helen is a performer and instructor of viola, violin, chamber music, and orchestral music. Explore the site to find out more.
Helen Fall Performance Bio
For teaching information, please visit the Studio Resources page.



Tips on Staying Healthy During Coronavirus Outbreak This is a great video to help you keep your instrument clean and bacteria free.
How Does Music Benefit the Brain?
Research shows that music greatly benefits the brain. Read the article.
Studies reveal musical training in childhood aids language learning ability
Just one hour a week of musical interaction greatly increases linguistic aptitude, even into adulthood. Read the article from The Strad magazine.
New Statistics Linking Music Education to Cognitive Development
It's long been accepted that music education helps students become more prepared for a lifetime of learning. New studies now show statistical evidence linking music lessons to measurable gains in focus, discipline, and critical thinking, meaning the connection between music and learning is now stronger than ever. Read more.
That 'Useless' Liberal Arts Degree Has Become Tech's Hottest Ticket
From Forbes Magazine: Big tech employers are widening their hiring horizons beyond the STEM fields: science, technology, engineering and math. Larry Quinlan, Deloitte's chief information officer, argues in favor of "STEAM," in which the A stands for the arts. "It's not enough to be technologically brilliant," Quinlan says. "We need senior people who understand business processes, too." Read more.
Arts Education Fuels the Economy
We all know that studying music and art is good for your brain, but did you know that the arts are also good for the economy? Read why here.
A Musical Fix for American Schools
From the Wall Street Journal: More evidence that keeping music programs in schools helps boost IQ, test scores, creative thinking for scientists, and the list goes on.

Monthly Studio Newsletters
Click on the "More" button above, then click on "Newsletters"
2021 Spring Festival!
Friday, March 12
This year's festival will be on Zoom. All students will perform with piano at Mrs. Fall's home. Students have been assigned to groups of 2, performing at 5:30, 6:30, 7:30, and 8:30pm. See the calendar on this page for musical selections and time assignments.
PERFORMANCE MASTERCLASS #7
These classes will be mock festival performances. Students will perform from memory for the judge in the exact format as the Spring Festival on March 12. Due to the time required for each performance, Lynelle and Clara will move to the Group D time.
Welcome, Jinger!!
On October 14th, Performance Masterclass #2C welcomed new viola student, Jinger! Her debut masterclass performance was stellar!
KUDOS TO STELLAR STUDENTS!!
Bravo to John! He was awarded FIRST PLACE in the 2021 NVMTA Concerto Competition!
Brava to former viola student, Diana Wade, who is a musician on TWO 2021 Grammy award nominated performances!
T. Hearne: "Place" — Ted Hearne, Steven Bradshaw, Sophia Byrd, Josephine Lee, Isaiah Robinson, Sol Ruiz, Ayanna Woods & Place Orchestra
nominated for Best Chamber Music/Small Ensemble Performance

and
"From This Place" Alan Broadbent & Pat Metheny, arrangers (Pat Metheny Featuring Meshell Ndegeocello) nominated for Best Arrangement, Instruments and Vocals
Photo below is Diana coaching former students Jason and Tyler on works by Hindemith on Zoom last May.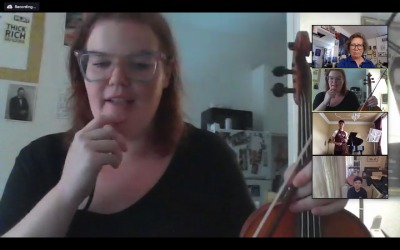 Bravo to John! Awarded Principal Viola in 2020 Northern Senior Regional Orchestra!!
Bravo to John, who was awarded Co-Principal Viola in the 2020-2021 Philharmonic Orchestra, the most advanced orchestra of the American Youth Philharmonic Orchestra program!!
Bravi to John, Tyler and Jason for their strong playing at the 2020 Virginia All-State Orchestra auditions! Only 16 violas are accepted from the entire state of Virginia. Results are:
Tyler, Principal
John, 5th chair
Jason, 7th chair!
Wow!!!
Bravi to John, Jason and Tyler for their outstanding performances at the 2020 Alexandria Lions' Club James Bland Competition. Tyler was awarded 2nd Place!!
Bravi to John and Tyler for winning Honorable Mention in the 2020 U.S. Army Orchestra Young Artist Competition. You can find them both in the viola section in the Army Orchestra concert on May 29th at the Rachel Schlesinger Concert Hall!
Bravi to Jason, John, and Tyler for beautiful performances at the January 25th, 2020 NVMTA Concerto Competition! Special shout-out to Tyler, who was awarded Honorable Mention from a crowded field of thirteen incredibly talented violists and cellists!
Bravi to Jason and Tyler for outstanding performances at the January 11th, 2020 NVMTA General Recital!
Bravo to John, who received Honors at the January 12th, 2020 NVMTA Judged Recital. This is John's second award of Honors for the first semester!
As an honored soloist, John has been invited to participate in the 1st semester NVMTA Honors Recital on February 9th.
Congratulations to Jason, Tyler, and John for acceptance, and performance in, the 2019 Northern Senior Regional Orchestra!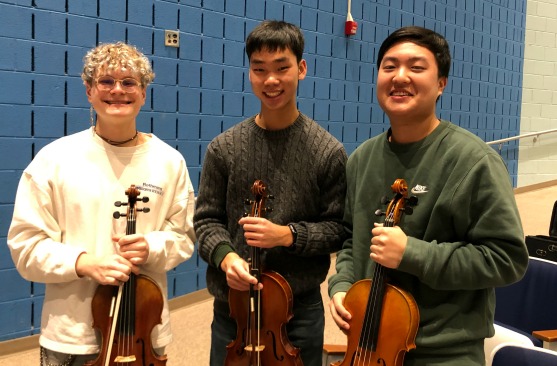 ***********************************************************
2020-2021 Orchestra Honors
BRAVI to these Stellar Students!!
2020 Northern Senior Regional Orchestra
John, Principal Viola
AYPO Orchestras
Philharmonic Orchestra
John, Co-Principal Viola and
Chamber Ensemble Program
***********************************************************
2019-2020 Orchestra Honors
BRAVI to these Stellar Students!!
2020 Virginia All-State Orchestra
Tyler, Principal Viola
John, Section Viola (5)
Jason, Section Viola (7)
2019 Northern Senior Regional Orchestra
Jason, Principal Viola! (for the 3rd consecutive year!)
Tyler, Section Viola (5)
John, Section Viola (6)
2019 District 11 Senior Honors Orchestra
Audrey Principal viola!!
Clara Principal 2nd violin!
2019 District 12 Senior Honors Orchestra
Cady – Section Second Violin
AYPO Orchestras
Philharmonic Orchestra
John, Section Viola and
Chamber Ensemble Program
Symphonic Orchestra
Cady, Section 1st Violin
TCSYO
Jason and Tyler have been accepted to the Symphonic Orchestra
Thomas Jefferson High School for Science and Technology
Jason, Principal Viola (Symphonic Orchestra)
Paul, Principal Second Violin (Sinfonietta)
Herndon High School
John, Principal Viola
South Lakes High School
Cady, Concertmaster (Chamber Orchestra)
WT Woodson High School
Audrey, Principal Viola (Chamber Orchestra)
*********************************************************** KUDOS TO STELLAR SENIORS!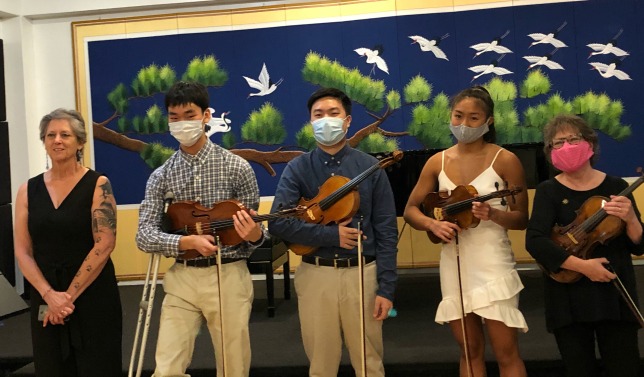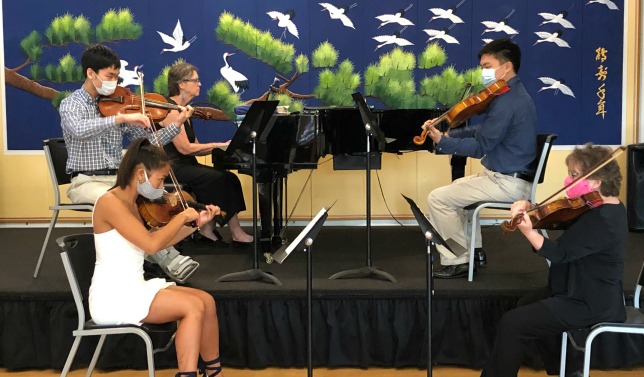 Bravi to our STELLAR SENIORS, Audrey, Tyler and Jason, who were finally able to perform in a Senior Recital together, and with Mrs. Bunn. The recital was held on June 19th at the Music Spectrum School for the Arts in Herndon. All attendees (performers and parents) were socially distant, and wearing masks. The recital was also streamed on Zoom, with 20 in virtual attendance. It was a truly memorable recital, each player performing a solo portion of 15-20 minutes, and finishing out with Bach's Brandenburg Concerto No. 6 with all 3 seniors and Mrs. Fall playing together. It was a absolutely joyful finale!
******************************************************
DIANA WADE HINDEMITH MASTERCLASS ON ZOOM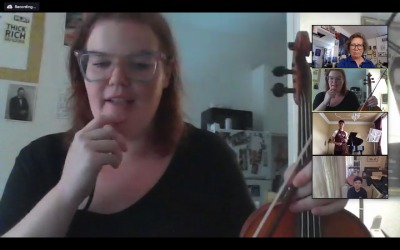 On Wednesday, May 27th, Jason and Tyler were treated to another fabulous masterclass with Diana Wade on the Hindemith pieces they have been studying. Tyler played the 2nd movement of Der Schwanendreher, the piece he performed at the Zoom recital on May 15th. Jason played the 3rd movement of Sonata Op. 11, No. 4. It was great to get insight from Diana, a former Fall Studio student, and Hindemith specialist.
27th Annual Spring Recital on Zoom!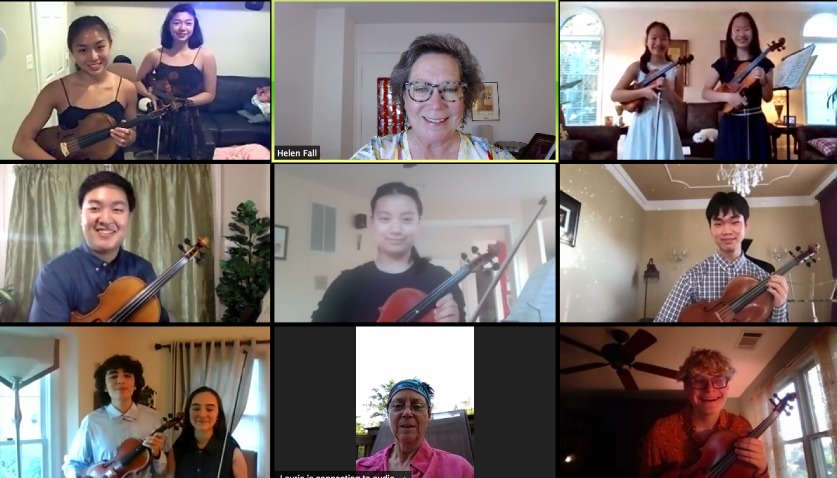 Our final performances, and a celebration of the year of music! New location this year: Zoom!! Each student performed his/her recital selection beautifully, accompanied by a mp3 recording that Mrs. Bunn produced. Bravi!!! It was a recital we will all remember!
DIANA WADE VIOLA MASTERCLASS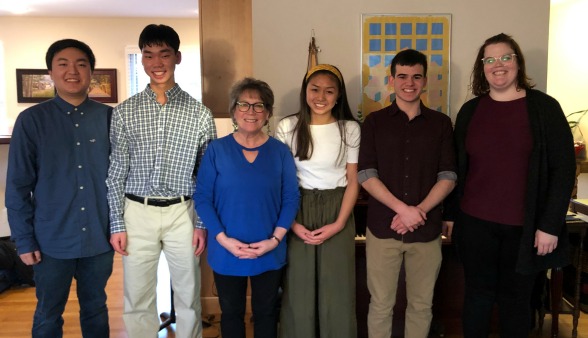 It was a thrill to host another masterclass in Mrs. Fall's home with master teacher Diana Wade, a rising star in the viola world, and Fall Studio alumnus. Four students played for Diana, including Audrey, Jason, and Tyler from the Fall Studio. Also performing from the Alina Kershon-Goldman Studio, was Pablo Ronderas. Diana has earned her stripes as an expert in the interpretation of the music of Paul Hindemith. 3 of the 4 students performed Hindemith for the class. Area teachers were in attendance, as were students from other teaching studios. Diana has a contract to record all of the Hindemith sonatas for viola – solo sonatas, and sonatas with piano. At the end of the class, Diana treated us all to a performance of Hindemith's Solo Sonata, Op. 31, No. 4, the work she is currently preparing for the next recording.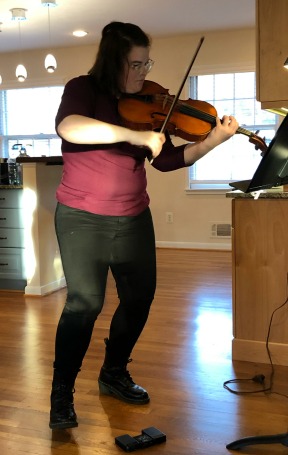 *********************************************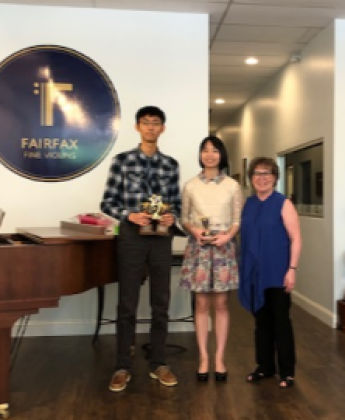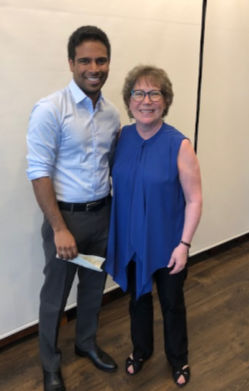 *******************************************************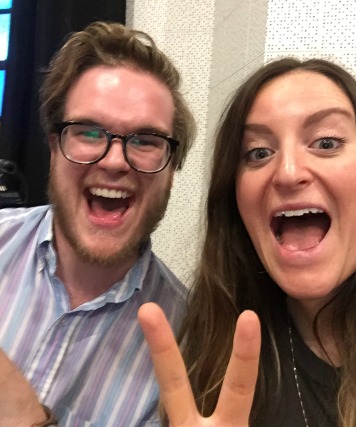 I loved getting a text and photo from former violin students, Bobby Chase (Humming House fiddler, composer, arranger, and recording engineer), and Eleonore Denig (composer, arranger, and recording session professional), who shared a stand in a Nashville recording session with singer, songwriter, rapper, record producer, and actress, Lauryn Hill. They both remember Fall's Law! ;-)