Welcome to helenfall.com! Helen is a performer and instructor of viola, violin, chamber music, and orchestral music. Explore the site to find out more.
Helen Fall Performance Bio
For teaching information, please visit the Studio Resources page.



Tips on Staying Healthy During Coronavirus Outbreak This is a great video to help you keep your instrument clean and bacteria free.
How Does Music Benefit the Brain?
Research shows that music greatly benefits the brain. Read the article.
Studies reveal musical training in childhood aids language learning ability
Just one hour a week of musical interaction greatly increases linguistic aptitude, even into adulthood. Read the article from The Strad magazine.
New Statistics Linking Music Education to Cognitive Development
It's long been accepted that music education helps students become more prepared for a lifetime of learning. New studies now show statistical evidence linking music lessons to measurable gains in focus, discipline, and critical thinking, meaning the connection between music and learning is now stronger than ever. Read more.
That 'Useless' Liberal Arts Degree Has Become Tech's Hottest Ticket
From Forbes Magazine: Big tech employers are widening their hiring horizons beyond the STEM fields: science, technology, engineering and math. Larry Quinlan, Deloitte's chief information officer, argues in favor of "STEAM," in which the A stands for the arts. "It's not enough to be technologically brilliant," Quinlan says. "We need senior people who understand business processes, too." Read more.
Arts Education Fuels the Economy
We all know that studying music and art is good for your brain, but did you know that the arts are also good for the economy? Read why here.
A Musical Fix for American Schools
From the Wall Street Journal: More evidence that keeping music programs in schools helps boost IQ, test scores, creative thinking for scientists, and the list goes on.

Monthly Studio Newsletters
Click on the "More" button above, then click on "Newsletters"
MARK YOUR CALENDARS! SENIORS IN RECITAL JUNE 3rd!
Our wonderful senior violin students, Clara, Mallory, and Kate will perform in a joint recital on Saturday, June 3rd. Each violinist has chosen her favorite selections to commemorate and celebrate years of dedication to her musical journey. The program will include works by Viardot, Kreisler, Massenet, Rachmaninoff, Lalo and John Williams. The recital's Grand Finale will be a performance of Vivaldi's Concerto in F Major for Three Violins. Please mark your calendars and come to support our graduating seniors! Details in the calendar section on the left of this homepage.
The 30th ANNUAL SPRING RECITAL was a wonderful gift of music from all of the Fall Studio students to family and friends. It was a proud moment for this teacher to see each student rise to the occasion and show the awesome fruits of his or her labor. We bid adieu to our fabulous graduating seniors, Mallory, Clara and Kate, who proudly modeled the 30th Anniversary "String of Excuses" t-shirts!
Thanks to Mr. Do for his fabulous videography! A Google Drive folder of each performance was shared with students and parents via email. Special thanks to Mr. Lin for his fabulous playing at the recital. Thanks to Mr. Lin and Ms. Liu for their help and support throughout the year!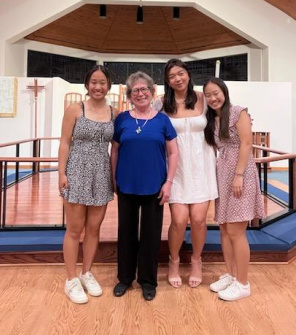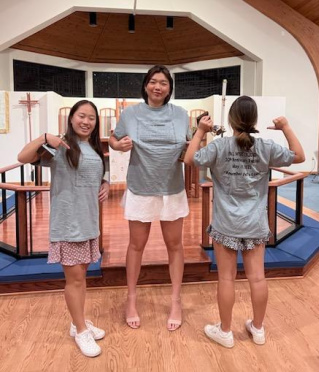 The 30th ANNUAL WINTER RECITAL at Leewood Healthcare and Rehab Center was a huge success for ALL students! The residents were uplifted by the Christmas Cheer, and some were even moved to sing along! The music certainly touched their souls. Thanks to students and parents for their time and energy to make this annual event so special for the Leewood residents.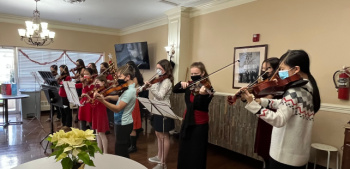 ***********************************************************

KUDOS TO STELLAR STUDENTS!!
2022-2023 Orchestra Honors

2022 District XI Senior Honors Orchestra
Kate, 4th chair, 1st violin (placed 4th)
Clara, 5th chair, 1st violin (placed 9th)
Colleen, 10th chair, 1st violin (placed 14th)
Mallory, 13th chair, 1st violin (placed 17th)
Only 44 violins are accepted to SDO (22 1st violins, 22 2nd violins)
2022 District XI Junior Honors Orchestra
Maya, 4th chair viola (placed 4th)
Only 16 violas are accepted to JDO
Thomas Jefferson High School for Science and Technolgy
Symphonic Orchestra
Colleen, Concertmaster
WT Woodson HS Symphonic Orchestra
Kate, Concertmaster
Clara, Assistant Concertmaster
Mallory, Principal Second Violin
Frost Middle School Chamber Orchestra
Maya, Principal Viola
Frost Middle School Concert Orchestra
Frost Middle School Intermezzo Orchestra
Evelyn, Principal Viola
Haycock Elementary School Advanced Orchestra
Haycock Elementary School Chamber Orchestra
Erya, section viola
May 13 NVMTA Strings Achievement Competition
Jinger, Maya and Colleen performed in the very competitive NVMTA Strings Achievement (Caurine Easterling) Competition on May 13th. All played very well! Jinger was awarded Honorable Mention in the Elementary Low Strings Division!
April 15 NVMTA Judged Recital
In preparation for the Easterling Competition in May, Jinger, Maya and Colleen performed selections that they will play for the competition. Great stepping-stone recital to test out the music! Bravi!!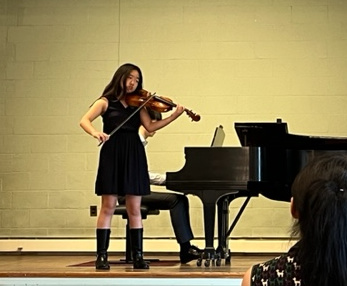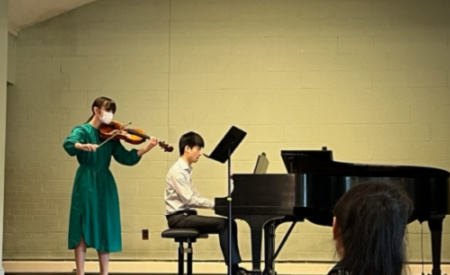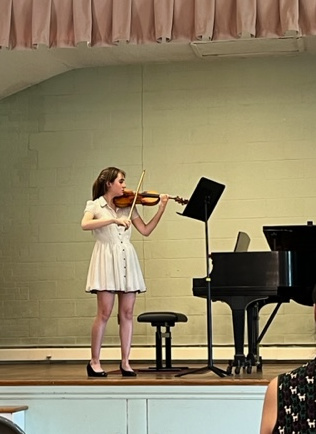 March 26 NVMTA General Recital
Erya and Evelyn played in their first NVMTA Recital at the Woman's Club of Arlington on March 26th. Maya, with lots of experience at the club, was also on the program. They all played so well, despite not having had a chance to rehearse their selections with Mr. Lin! Well done!!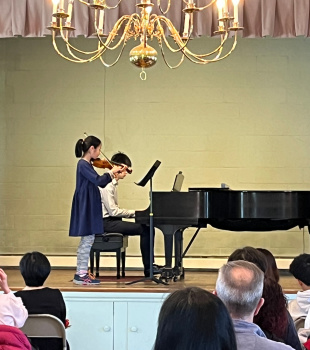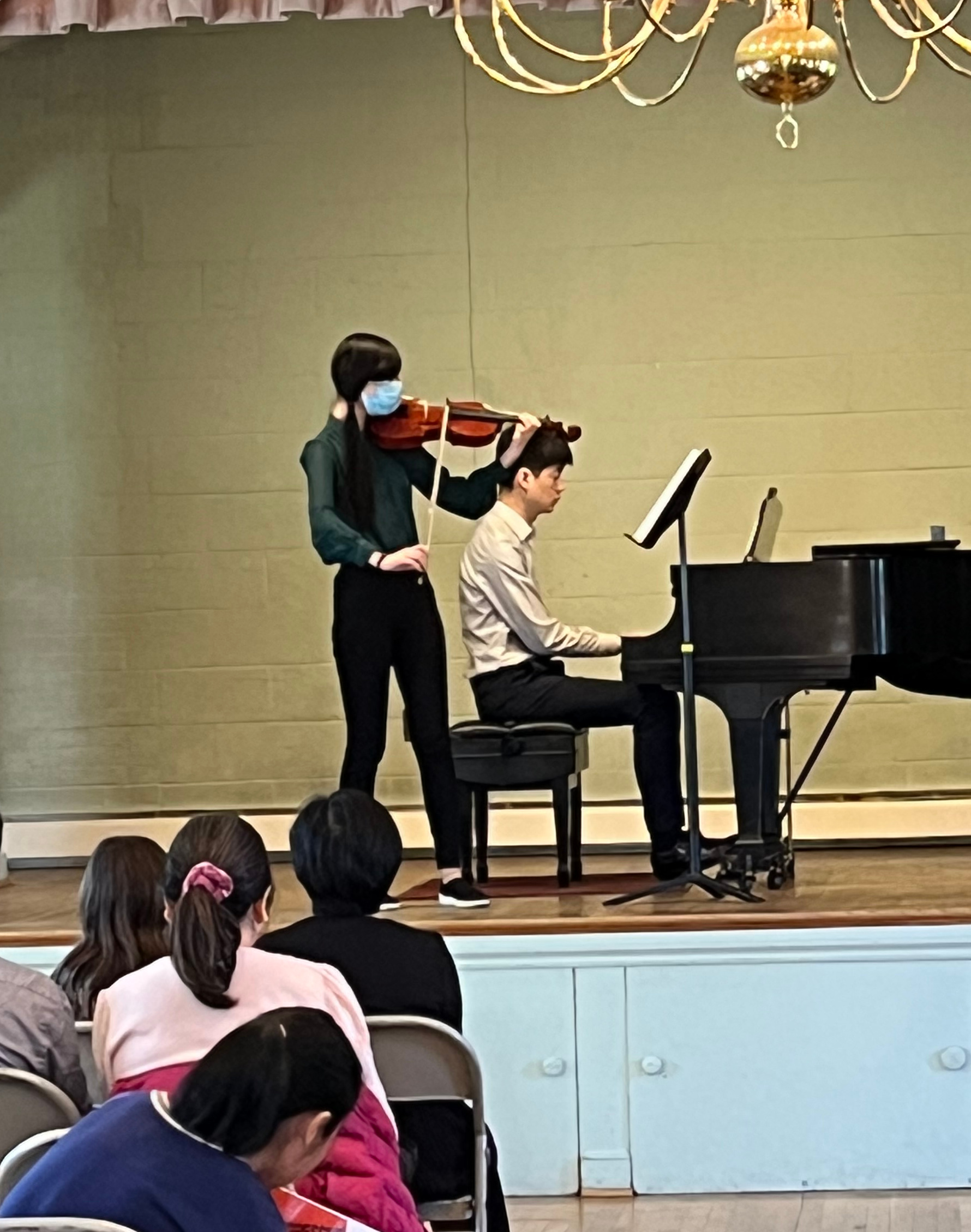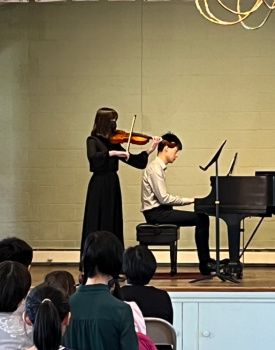 Clara, Kate, Mallory and Colleen all performed beautifully at the Alexandria Lions' Club James Bland Competition on February 19th. Special shout-out to Clara, who was awarded 3rd Place!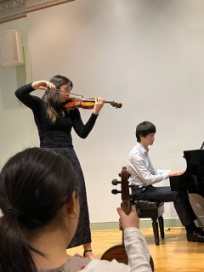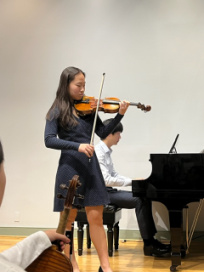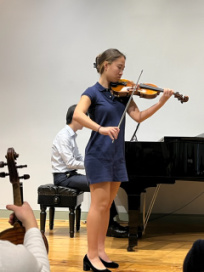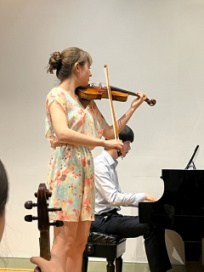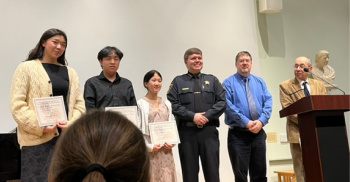 Claire, Morgan and Logan all performed well at the NVMTA General Recital on February 5th. This was the first time playing at a teacher's association recital for Morgan and Logan! Well done!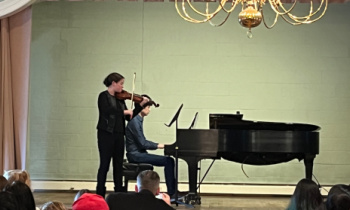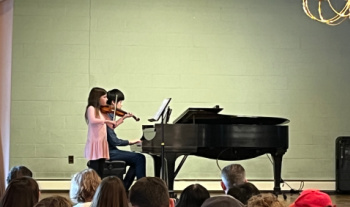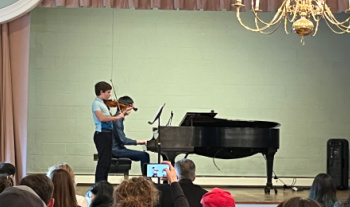 Jinger was awarded 3rd place in the Low Strings Elementary Division of the NVMTA Concerto Competition on January 28th. It was great giving her the award at her lesson after the check came in the mail!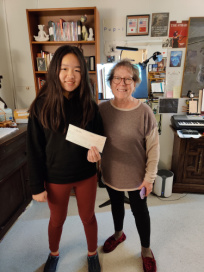 Former viola student, Diana Wade, has been busy in Los Angeles recording music with the orchestra for the newest Indiana Jones movie! Here's a link for the trailer. Diana is playing in this orchestra!
Former viola student, Patrick Miller, was recognized by the William Harris Lee & Co. in a #MusicianMonday post on November 28th. While a student in the Fall Studio, Patrick earned the Principal Viola seat in the Senior Regional Orchestra and Virginia's All-State Orchestra in his senior year. He also was accepted to the American String Teachers Association National High School Honors Orchestra. The rest of his story is in this lovely post.
Clara, Kate, and Mallory performed in the NVMTA General Recital at the Woman's Club of Arlington on November 19th. They played beautifully. BRAVI!!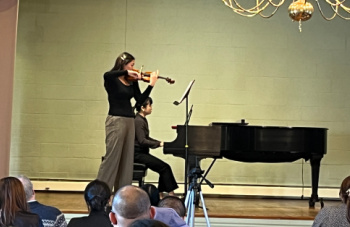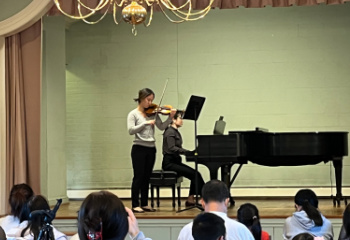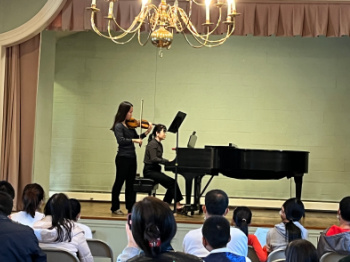 **************
PERFORMANCE MASTERCLASSES #1A & 1B!
Our first Performance Masterclasses were hugely successful!
Every student came with at least one good idea to share for practicing. All of the ideas were terrific and so helpful!! The list of the ideas Student Resources page of this website.
The mock auditions on Sunday were illuminating, and our auditionees learned a lot from the experience!
Everyone who performed solos with and without piano accompaniment played well! It was a first for several students, and they proved their mettle as musicians already! Bravi, all!
We celebrated the addition of SIX students this year! In the Violin Performance Masterclass we welcomed Logan and Morgan! In the Viola Performance Masterclass we welcomed Erya, Alyssa, Evelyn and Sarah! Everyone was glad to celebrate with cake!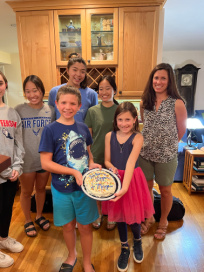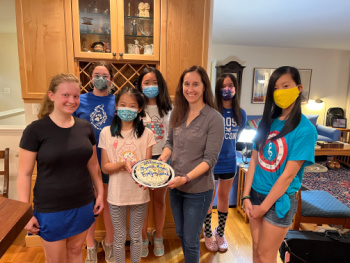 **************
SURPRISE VISITS FROM FORMER STUDENTS ARE THE BEST!
It was a welcome surprise to see former viola student, Matt Negrin at our door. Currently living in New York City, Matt is the Senior Digital Producer for Comedy Central's The Daily Show. Matt came back to Fairfax to visit his parents...and Mr. and Mrs. Fall!! Matt remembers Fall's Law!!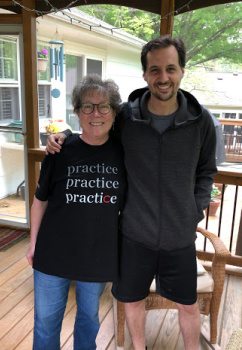 ***************************************************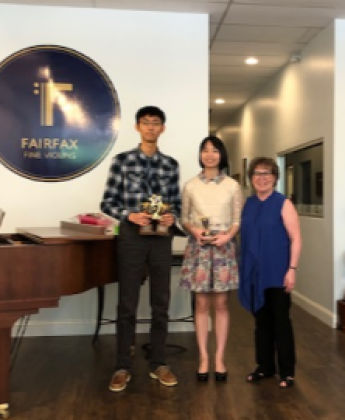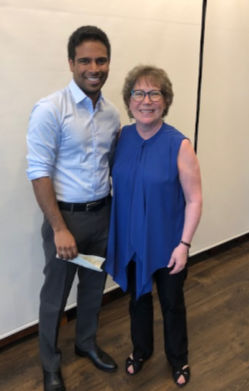 *******************************************************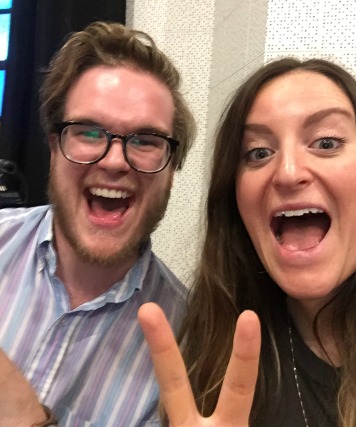 I loved getting a text and photo from former violin students, Bobby Chase (Humming House fiddler, composer, arranger, and recording engineer), and Eleonore Denig (composer, arranger, and recording session professional), who shared a stand in a Nashville recording session with singer, songwriter, rapper, record producer, and actress, Lauryn Hill. They both remember Fall's Law! ;-)