Welcome to helenfall.com! Helen is a performer and instructor of viola, violin, chamber music, and orchestral music. Explore the site to find out more.
Helen Fall Performance Bio
For teaching information, please visit the Studio Resources page.



Tips on Staying Healthy During Coronavirus Outbreak This is a great video to help you keep your instrument clean and bacteria free.
How Does Music Benefit the Brain?
Research shows that music greatly benefits the brain. Read the article.
Studies reveal musical training in childhood aids language learning ability
Just one hour a week of musical interaction greatly increases linguistic aptitude, even into adulthood. Read the article from The Strad magazine.
New Statistics Linking Music Education to Cognitive Development
It's long been accepted that music education helps students become more prepared for a lifetime of learning. New studies now show statistical evidence linking music lessons to measurable gains in focus, discipline, and critical thinking, meaning the connection between music and learning is now stronger than ever. Read more.
That 'Useless' Liberal Arts Degree Has Become Tech's Hottest Ticket
From Forbes Magazine: Big tech employers are widening their hiring horizons beyond the STEM fields: science, technology, engineering and math. Larry Quinlan, Deloitte's chief information officer, argues in favor of "STEAM," in which the A stands for the arts. "It's not enough to be technologically brilliant," Quinlan says. "We need senior people who understand business processes, too." Read more.
Arts Education Fuels the Economy
We all know that studying music and art is good for your brain, but did you know that the arts are also good for the economy? Read why here.
A Musical Fix for American Schools
From the Wall Street Journal: More evidence that keeping music programs in schools helps boost IQ, test scores, creative thinking for scientists, and the list goes on.

Monthly Studio Newsletters
Click on the "More" button above, then click on "Newsletters"
29th ANNUAL SPRING RECITAL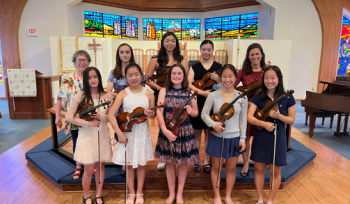 The Annual Spring Recital was a wonderful gift of music from all of the Fall Studio students to family and friends. It was a proud moment for this teacher to see each student rise to the occasion and show the awesome fruits of her labor.
Special thanks to Ms. Liu for her fabulous playing at the recital. Thanks to Ms. Liu, Mr. Lin, and Mrs Richardson for their help and support throughout the year!
SPRING FESTIVAL NEWS
A big shout-out to ALL students who performed in the Spring Festival on March 11th!! All students received Superior Ratings from both judges! I am a #ProudTeacher of a 100% Superior Studio! The students all worked hard, and it paid off! Bravi!!!!
FEBRUARY NVMTA GENERAL RECITAL
Claire and Kelly performed a duet in the NVMTA General Recital at the Woman's Club of Arlington on February 6th. It was their first time performing outside of the studio! Their performance was above and beyond!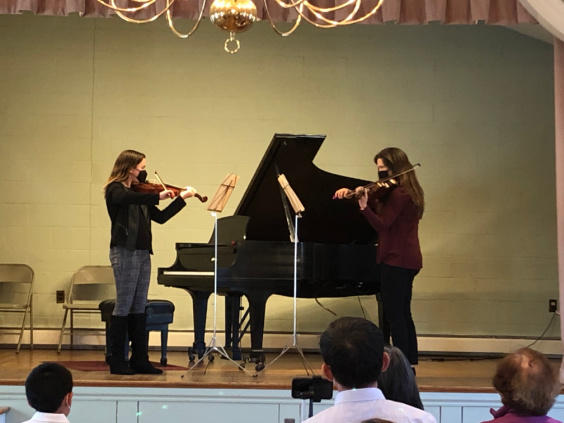 Clara, Kate and Mallory performed a 3-movement Mozart trio at the second NVMTA General Recital of the day on February 6th. Their performance was stellar!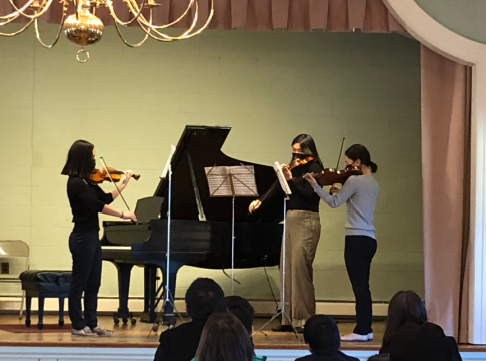 It was delightful to see Fall Studio violinists and violists add diversity and spice to what would have otherwise been just plain vanilla piano recitals! Bravi!!
WELCOME MAYA!!
At the January Performance Masterclasses, the students enjoyed cake to celebrate and welcome new viola student Maya to the studio!
Video is from Group A
Photo is from Group B, with Maya holding the cake!
?wmode=opaque&theme=dark" frameborder="0" allowfullscreen>
29th ANNUAL WINTER RECITAL
The December 11th Winter Recital was a Huge Success!! Everyone played their best, and the residents at the Leewood Healthcare Center were so appreciative!!
Bravi, all!!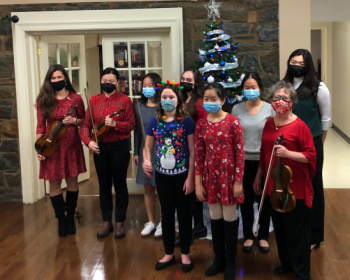 IN-PERSON NVMTA GENERAL RECITAL!
In the first in-person NVMTA event since COVID, Jinger, Colleen, and Lynelle performed at the Woman's Club of Arlington on November 13th. It was exciting to be able to join students from other studios in this momentous event! BRAVI!!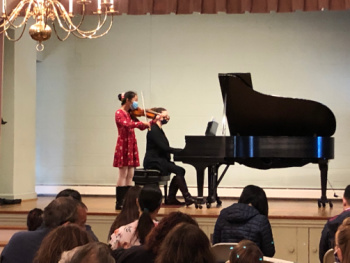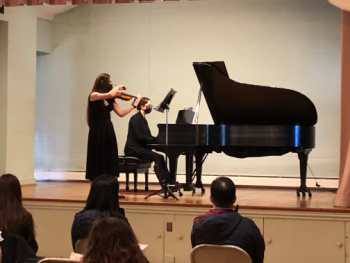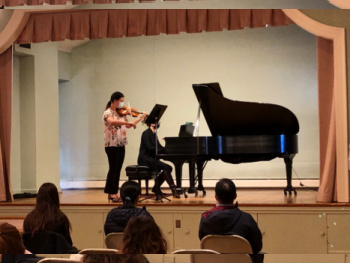 PERFORMANCE MASTERCLASSES #1A and 1B
Our first performance masterclasses were a great kickoff for an exciting year of learning music together! Everyone came with great ideas to share for practice. This year's list is posted on the Student Resources page.
Photo below is of Group A with our new members, Claire and Kelly. Video below is from Group B welcoming Claire and Kelly. Everyone was happy to have a reason to eat yummy cake. Thanks, and welcome, Claire and Kelly! 😃
***********************************************************
2021-2022 Orchestra Honors
BRAVI to these Stellar Students!!
2021 District XI Senior Honors Orchestra
Kate, Concertmaster!
Clara, Assistant Concertmaster!
Lynelle, 3rd chair 2nd violin (placed 7th)
Mallory, section 1st violin (placed 9th)
Colleen, section 1st violin (placed 21st)

WT Woodson HS Philharmonic Orchestra
Clara, Co-Concertmaster
Fairfax HS Chamber Orchestra
Colleen, Assistant Principal 2nd Violin
TCSYO Orchestras
Symphonic Orchestra
Colleen, Section 2nd Violin
**************
2020-2021 Orchestra Honors
BRAVI to these Stellar Students!!
2021 Virginia All-State Orchestra
John, Assistant Principal Viola
2020 Northern Senior Regional Orchestra
John, Principal Viola
AYPO Orchestras
Philharmonic Orchestra
John, Co-Principal Viola and
Chamber Ensemble Program
**************
SURPRISE VISITS FROM FORMER STUDENTS ARE THE BEST!
It was a welcome surprise to see former viola student, Matt Negrin at our door. Currently living in New York City, Matt is the Senior Digital Producer for Comedy Central's The Daily Show. Matt came back to Fairfax to visit his parents...and Mr. and Mrs. Fall!! Matt remembers Fall's Law!!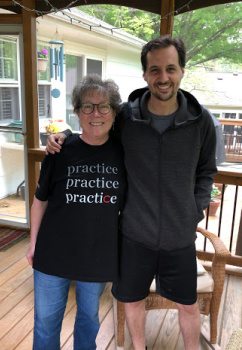 ***************************************************
KUDOS TO STELLAR STUDENTS!!
Congratulations to former viola student, Patrick Miller (Fall Studio Class of 2012), who was FINALLY able to have that wedding he and his violinist wife, Dianna had been planning for over a year on June 20th. It was a great honor to be invited!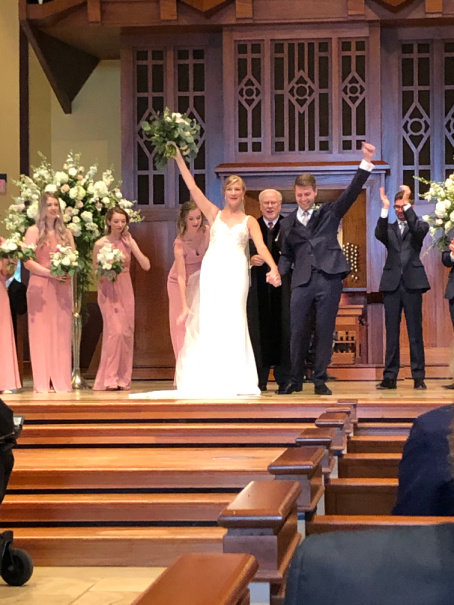 Congratulations to Lynelle, voted by her peers to be the Co-President of the Thomas Jefferson HS for Science & Technology Orchestra!
Congratulations to Colleen, winner of FIVE medals in Science Olympiads! 1st and 3rd place in the Region, 2nd place in the state, and 3rd and 6th place in the US National Invitational competitions!
Congratulations to Kate and Mallory, members of the Regional Champion WT Woodson Varsity Tennis Team!
Congratulations to Studio Pianist, Mrs. Michelle Richardson, and her family! Baby Byron Alan Richardson was born on May 27. Mom, Dad (Mr. Matt Richardson) and big brother Eldon are all happy and well!
College decisions!
Congratulations to John for being accepted to San Francisco Conservatory, New England Conservatory, Manhattan School of Music, and Oberlin Conservatory with merit scholarships from each institution! John has decided to attend Oberlin Conservatory in the fall, studying with viola professor Peter Slowik.
Bravo to former viola student, Jason Pak (Fall Studio Class of 2020), the 2020-2021 winner of the strings division of the Culley Concerto Competition at Dartmouth College! You can hear Jason's performance of the Fantasie by Johann Nepomuk Hummel here. Results for strings decisions begin at 31:20. Jason's performance begins at 34:49.
Bravo to former student, Tyler Hyun (Fall Studio Class of 2020)! Tyler was a co-winner of the Christopher Newport University Concerto Competition. Tyler performed the Fantasie for Viola and Orchestra by Johann Nepomuk Hummel with the CNU Orchestra on April 13! Bravo!! Here is the link to the concert. Tyler's solo begins at 55:37.
Bravo to John - placed Assistant Principal in the Virginia All-State Orchestra!!
Performing the 1st movement of the Walton Viola Concerto, John was awarded FIRST PLACE, and $300 in the Senior Low Strings Division for the January 2021 NVMTA Concerto Competition! Bravo!!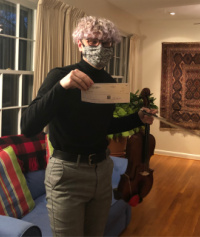 John recorded a performance of the 1st movement of the Sonata by Rebecca Clarke which was submitted for the March 14 NVMTA Judged Recital. The judges' comments gave him high praise. From one judge he was praised for his "chamber work with the pianist," "colorful dynamics," and "nuance." The other judge wrote: "An impressive, fluent command of varied techniques, with musical phrasing, nice rhapsodic mood, and warm tone." John's performance was awarded Honors. Bravo!!
John was awarded Honorable Mention in the 2021 US Army Orchestra Young Artist Competition!
Shout Out LA featured former Fall Studio viola student, Diana Wade (Fall Studio Class of 2003), in this short interview/article. Diana, who plays in Los Angeles orchestras, movie and television recording studios, and as a chamber musician, soloist and composer, gives good advice for free-lance musicians – and for anyone, really – on life and work.
Brava to former Fall Studio viola student, Diana Wade (Fall Studio Class of 2003). Diana is a musician on TWO 2021 Grammy award nominated performances!
T. Hearne: "Place" — Ted Hearne, Steven Bradshaw, Sophia Byrd, Josephine Lee, Isaiah Robinson, Sol Ruiz, Ayanna Woods & Place Orchestra
nominated for Best Chamber Music/Small Ensemble Performance

and
"From This Place" Alan Broadbent & Pat Metheny, arrangers (Pat Metheny Featuring Meshell Ndegeocello) nominated for Best Arrangement, Instruments and Vocals
Photo below is Diana coaching former students Jason and Tyler on works by Hindemith on Zoom last May.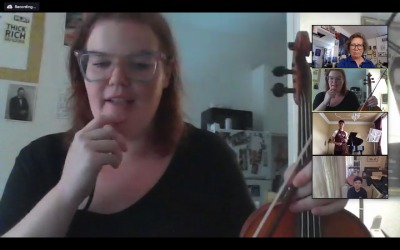 Bravo to John! Awarded Principal Viola in 2020 Northern Senior Regional Orchestra!!
Bravo to John, who was awarded Co-Principal Viola in the 2020-2021 Philharmonic Orchestra, the most advanced orchestra of the American Youth Philharmonic Orchestra program!!
*********************************************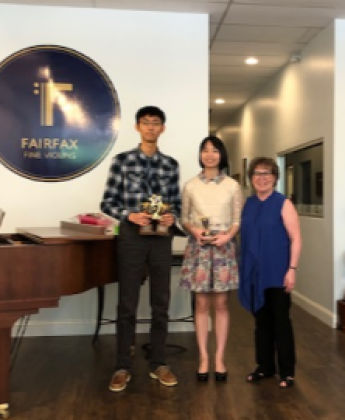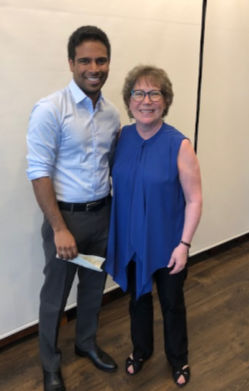 *******************************************************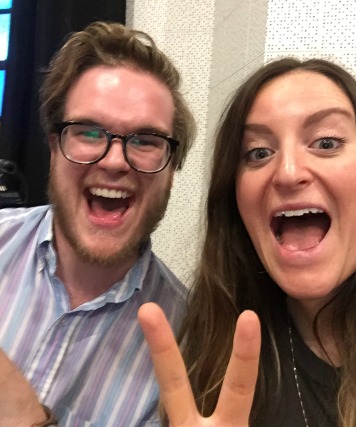 I loved getting a text and photo from former violin students, Bobby Chase (Humming House fiddler, composer, arranger, and recording engineer), and Eleonore Denig (composer, arranger, and recording session professional), who shared a stand in a Nashville recording session with singer, songwriter, rapper, record producer, and actress, Lauryn Hill. They both remember Fall's Law! ;-)