Welcome to helenfall.com! Helen is a performer and instructor of viola, violin, chamber music, and orchestral music. Explore the site to find out more.
Helen Fall Performance Bio
For teaching information, please visit the Studio Resources page.



How Does Music Benefit the Brain?
Research shows that music greatly benefits the brain. Read the article.
Studies reveal musical training in childhood aids language learning ability
Just one hour a week of musical interaction greatly increases linguistic aptitude, even into adulthood. Read the article from The Strad magazine.
New Statistics Linking Music Education to Cognitive Development
It's long been accepted that music education helps students become more prepared for a lifetime of learning. New studies now show statistical evidence linking music lessons to measurable gains in focus, discipline, and critical thinking, meaning the connection between music and learning is now stronger than ever. Read more.
That 'Useless' Liberal Arts Degree Has Become Tech's Hottest Ticket
From Forbes Magazine: Big tech employers are widening their hiring horizons beyond the STEM fields: science, technology, engineering and math. Larry Quinlan, Deloitte's chief information officer, argues in favor of "STEAM," in which the A stands for the arts. "It's not enough to be technologically brilliant," Quinlan says. "We need senior people who understand business processes, too." Read more.
Arts Education Fuels the Economy
We all know that studying music and art is good for your brain, but did you know that the arts are also good for the economy? Read why here.
A Musical Fix for American Schools
From the Wall Street Journal: More evidence that keeping music programs in schools helps boost IQ, test scores, creative thinking for scientists, and the list goes on.

BRAVI TO ALL! WONDERFUL RECITAL!
The Spring Recital on May 19 was a true celebration of sharing music with family and friends. Everyone played their best! Thank you for a wonderful year!
It was fun to give out two 30-point Gold Cups and six 15-point Gold Cups as well as the Performance Attendance and Stellar Student Awards.
We bid a bittersweet adieu to David (7 year studio veteran) and Crystal. (5 year studio veteran), and wish them both well at UVA next year! Wahoowa!
It was especially wonderful to have former violin student, Philip Park (graduating class of 2016) and former viola student, Ved Basu (graduating class of 2009) in attendance! Special thanks to Mrs. Laurie Bunn for her magic at the piano, and Mr. Joseph Yoo for Fairfax Fine Violin's recital space, and for the wonderful gifts for everyone! Photos below.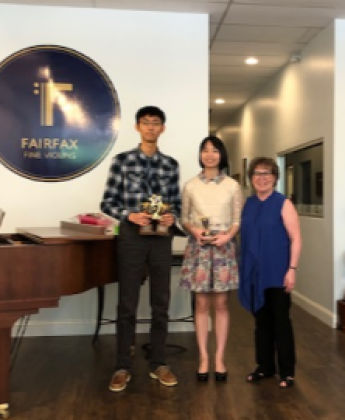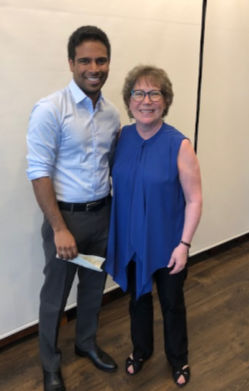 KUDOS TO STELLAR STUDENTS!!
Tyler has been selected to sit Principal Viola in the Virginia Summer Residential Governor's School for Music orchestra!
Cady has been accepted to the second-highest of the AYPO, the Symphonic Orchestra!
John has been advanced to the highest-level orchestra of the AYPO, the Philharmonic Orchestra for 2019-2020!
At the Thomas Jefferson HSST orchestra concert on May 30th, Jason was elected by his orchestra peers for the Most Outstanding Musician award for the second year in a row! Also at the concert, Jason received a certificate for being a member of the Thomas Jefferson HS String Quartet, and Orchestra Director Allison Bailey announced that Jason has been elected to be 2019-2020 Orchestra Co-President! Way to go, Jason!!
David, John, and Jason performed in the first round of the Fairfax Symphony Feuer Competition. Although none advanced the final round, it was an honor to be selected to perform, and all felt they had strong performances.
The entire Fall Studio performed at the 2019 Springfield Music Club Annual Spring Festival on March 8th. The twelve students in the studio performed a total of 34 musical selections in 22 events, representing four categories (Violin Solo, Violin Concerto, Viola Solo, and Viola Concerto)! The judges' comments were super helpful, and scored the students with 20 Superior Ratings and 2 Excellent Ratings. Mrs. Fall is extremely pleased that EIGHT Gold Cups will be awarded at the Studio Spring Recital on May 19th!!
David performed Zigeunerweisen by Sarasate at the January 12th NVMTA Judged Recital, and was awarded Honorable Mention!
Cady performed Tempo di Minuetto by Kreisler at the February 10th NVMTA Judged Recital, and was awarded Honorable Mention!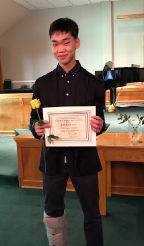 John, Jason and Tyler performed in the Vienna "Host" James Bland Competition on February 16th. Special shout out to Tyler, who was awarded 3rd place!!
The following students have been accepted, and will attend, the following summer programs:
John will be attending ENCORE Chamber Music
Jason will be attending National Symphony Orchestra's Summer Music Institute
Tyler will be attending Virginia Summer Residential Governor's School for Music
Bravi! to all!!!
***********************************************************
2019-2020 Orchestra Honors
BRAVI to these Stellar Students!!
AYPO Orchestras
Philharmonic Orchestra
John, Section Viola
Symphonic Orchestra
Cady, Section 1st Violin
*********
2018-2019 Orchestra Honors
BRAVI to these Stellar Students!!
2019 Virginia All-State Orchestra
Section Violas:
Jason (7)
Tyler (9)
John (14)
2019 Prince William All-County Orchestra
David, Assistant Concertmaster
2018 Northern Senior Regional Orchestra
Jason, Principal Viola! (for the 2nd consecutive year!)
Tyler, Section Viola (4)
John, Section Viola (10)
2018 North Central Senior Regional Orchestra
David, Assistant Concertmaster!
2018 District 11 Junior Honors Orchestra
Clara Section 1st violin (#4 overall!)
Kate Section 2nd violin
2018 District 11 Senior Honors Orchestra
Crystal Assistant Principal viola!!
Audrey Section viola
Lynelle Section 1st violin
2018 District 12 Senior Honors Orchestra
Cady – Section First Violin
AYPO Orchestras
Philharmonic Orchestra
Crystal, Section Viola
Symphonic Orchestra
John, Section Viola
Concert Orchestra
Clara, Section Violin
TCSYO Orchestras
Symphonic Orchestra
Jason, Principal Viola
Tyler, Section Viola
Thomas Jefferson High School for Science and Technology
Jason, Principal Viola (Symphonic Orchestra)
Lynelle, Concertmaster (Sinfonia Orchestra)
Lake Braddock High School
Crystal, Principal Viola
Herndon High School
John, Principal Viola
Battlefield High School
David, Assistant Concertmaster
***********************************************************
Performance Masterclass #1A
At Group A's class we welcomed Maddie to the studio with cake. A violist, Maddie is an 8th grader at Luther Jackson Middle School.
Performance Masterclass #1B
Group B sends a message to the newest member of our studio. Watch the video!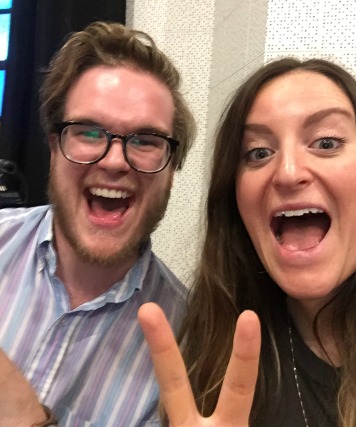 I loved getting a text and photo from former violin students, Bobby Chase (Humming House fiddler, composer, arranger, and recording engineer), and Eleonore Denig (composer, arranger, and recording session professional), who shared a stand in a Nashville recording session with singer, songwriter, rapper, record producer, and actress, Lauryn Hill. They both remember Fall's Law! ;-)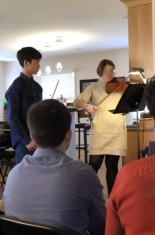 The Fall Studio hosted a Viola Masterclass with Master Teacher, Diana Wade, on Saturday, December 22. Twenty area viola & violin students and teachers attended this inspiring masterclass! Shout out to Crystal and Tyler for playing. They got some terrific feedback, and were able to take that home as they prepare for the Concerto Competition in January!